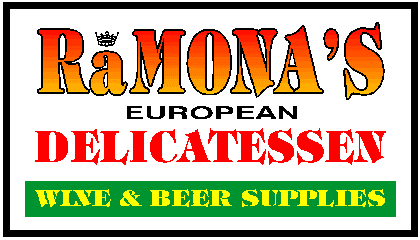 Wine made on premises - 30 bottles (750 ml), the average cost is $70, waiting time is about 4 to 5 weeks. In addition we offer few kinds of Ice Wine. The approximate cost of ice wine is $90 per 16 bottles (750 ml).
We provide many varieties of wine from Europe, Australia,
California, and Ontario.

Here are some of our labels:

Here are examples of the most popular kinds of wine that we offer:
RED WINE

Barolo
Beregamais
Cabernet Sauvignon
Cabernet - Shiraz
Domaines des Brumes
Pinot Noir
Vieu Chateau de Roi
Cuvee Rouge
Merlot

WHITE WINE

Chablis
Chardonnay
Fume Blanc
Gewurztraminer
Sauvignon Blanc
Brise-de-Meris
Riesling
White Bordeaux
Verdichio
Pinot Gris
Moselle
We provide many varieties of beer kits. Few examples are: Brew Pro, Classic Beer Kits, Brew Canada Beer Kits, Coopers Beer Kits, John Bull Premium, Dutch, Laaglaner, EDME and many more.

Here are examples of the most popular kinds of beer that we offer:
Bavarian Lager (dark)
Mexican Lager
Scottish Export Ale
Austrian Lager
Berliner Weisse
Canadian Plsener Beer
Canadian Lager Beer
Canadian Draft Beer
Canadian Light Beer
Canadian Export Ale
Canadian Dry Beer
If you have more specific questions please contact us directly at (519) 631-7010, Fax: (519) 631-5342